Revision 5k Run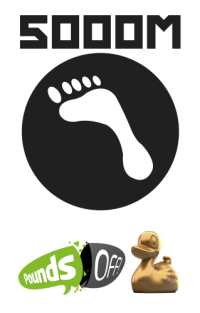 Hi! Hello! Hi there! Yes, I'm talking to YOU!
You may have heard of this new thing at Revision - something supremely unique in the demoscene. A first, if you will. Well, strictly speaking not a first, but you know what we mean. Or maybe you don't? I'm confused. In any case; what I'm talking about is the Revision 4.096k run.Yes! HOLY WOOLABALOO! A RUN, motherlickers. An honest-to-god, sweat-on-your-brow, get-off-your-fat-ass-and-run Run.
And you can be part of it!!! All you need to do is go to the infodesk and sign up, where you will be given further details. Rest assured that your friendly Lord of the Dance and all-around nice guy [run organizer] will get you all safely on your way without excessive injury.
And afterwards, you will feel good and fuzzy and warm inside. You will be on top of the world. And then you will have to face the STRAF for being so goddamn healthy.
To sum it up:
Revision 2014 will feature a 5 kilometer (or maybe just 4096 meter) run along the beautiful Saar river
We'll start on Saturday morning at around 11:00 and should all be back safely at 12:00 to take a shower and start watching compos
You want to participate?
Come prepared and bring your running shoes and proper clothes
Don't be afraid! Even if you're out of shape or very shapely - just do it. Even D.Fox did it at TRSAC and came in superlast! But he prevailed to live another day.
And don't worry about getting lost - we'll take good care of you during the run! We even hired the Danes, which are the creators of the original TRSAC 5k run, to help make this work! Guaranteed!
The Incredible Live-Coder-Mayhem 5000
Revision 2014... or is it the Super Megalactic Demoscene Spacecup? Nobody knows for sure.

What IS sure is, that there will be a battle of gigantic proportions! On Friday and Saturday night - the ultimate fight of knowledge, persistence and crowd-pleasing skills will take place: The Incredible Live-Coder-Mayhem 5000!

First presented at WeCan 2013 - their creators are bringing this to the big stage at Revision.

8 Coders in total, competing one-on-one in a live-shader-coding frenzy over two days.
Friday - The Elimination Round: Four battles where the respective winners move to the Saturday Finals
Saturday - The Finals: Two battles in the Semi-Finals, one to determine third and fourth place and one breathtaking last round to determine the ultimate live-coder!

Interested in participating? Apply at hotline-2014@revision-party.net
We'll announce the eight contestants roughly one week before Revision!
The Rules at a glance
8 contestant knockout tournament on the main stage
The crowd can watch what you do in split-screen mode
Every battle lasts 25 minutes and you have to write everything from scratch
All code (GLSL) has to be written using the custom compo tool provided (there will be a preview available before Revision so you can all check it out beforehand)
An audio feed will be provided by a DJ - who will play to the visuals you produce on the screen
All battles will be moderated live
Winners will be determined by crowd voting
Premade code is NOT allowed
Attaching of memory devices to the competition computers is NOT allowed
Use of other applications is forbidden - though we'll provide you with a PDF with GLSL specifications
The Timetable
Friday from 22:00

First round. 4 battles of 25 minutes each. Winners move on to the finals on saturday

Saturday from 14:00

Semi finals
Battle for 3rd/4th place
Final
The Tool
The Live-Coding Tool is available for download here. There's also an ongoing discussion - feel free to join in.
DUB Awards
For the second time in history, the Danish Underpants Brigade will present the DUB Awards to the unsuspecting people of earth.
We're not going to tell you too much about what's going to happen there... but it will be both awesome and hilarious! Please check out the official website for more information!
The nominees are
Schengen All-Stars, Havoc, Xerxes, The Russian Federation, Evil bot, Moqui, Poo-Brain, KB, Lemon., Hoffman, Dodge, Response, Styx, Punqtured, Okkie, Mentor, Santa, Faxe, Happy bot, Cheesy, Docd, Leia, Smash, Netpoet, lug00ber, scamp, T$, Maali, Sir Garbagetruck, Vengaboys, Steeler
Events At Revision
Our special events